Certification
The Thompson Seminar Series – RTT-Union of Thompson-Technique certification program is designed to optimize & standardize the method in which Thompson Technique is delivered around the world.
At the conclusion of 3 Seminars, participants have the option of taking a practical and written examination – successful completion of which confers certification in Thompson Technique.
Certified Thompson Seminar Series practitioners will be required to attend ONE Thompson Seminar Series every 2 years to keep their certification current and to stay up to date with the latest advances in the techniques. These certified individuals will be able to re-take the seminar at a significantly reduced "Refresher Fee"
By being certified, and validating your cerfication every two years, you have the assurance that you are performing Thompson Technique correctly, and maintaining the level of excellence needed to raise the standard of Thompson Technique application. You will also be designated as Certified Thompson-Technique Practitioner.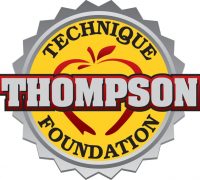 Zertifizierung
Die Thompson-Seminarreihe – RTT-Union of Thompson-Technique Zertifizierungsprogramm wurde entwickelt, um die Methode, in der die Thompson-Technik weltweit angeboten wird, zu optimieren und zu standardisieren.
Am Ende von 3 Seminaren haben die Teilnehmer die Möglichkeit, eine praktische und schriftliche Prüfung abzulegen – deren erfolgreicher Abschluss die Zertifizierung in der Thompson-Technik verleiht.
Zertifizierte Praktiker der Thompson-Seminarreihe müssen alle 2 Jahre an EINER Thompson-Seminarreihe teilnehmen, um ihre Zertifizierung auf dem neuesten Stand zu halten und sich über die neuesten Fortschritte in den Techniken zu informieren. Diese zertifizierten Personen können das Seminar zu einer deutlich reduzierten "Auffrischungsgebühr" erneut besuchen.
Wenn Sie sich zertifizieren lassen und Ihre Zertifizierung alle zwei Jahre bestätigen lassen, haben Sie die Gewissheit, dass Sie die Thompson-Technik korrekt ausführen und das Niveau der Exzellenz beibehalten, das zur Anhebung des Anwendungsstandards der Thompson-Technik erforderlich ist. Sie werden auch als Zertifizierter Thompson Technique Practitioner bezeichnet.